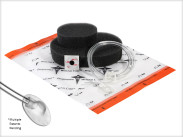 When combined with LipoGel®:

Less tissue ingrowth into foam dressing,
Less tissue loss upon removal of foam, and
Less pain for patients during therapy.

When combined with IodoFoam®:

Microbes and exudate are greatly reduced.
Appropriate for sensitive tissues (bone/tendon)

Provided in sizes identical to institutional standards
Large quantity of high quality transparent film
Quality and elegant design:

proprietary suction head*, and
best in class ease of use.

Clinical Support

Access to licensed, practicing clinicians.
*Multiple Patent Pending
Product Facts
GelTex® Foam Wound Care Sets are intended to be used in conjunction with Negative Pressure Wound Therapy (NPWT) pump systems to deliver negative pressure to wounds. NPWT systems are indicated to promote wound healing, through means including drainage and removal of infections material or other wound fluids.
Indications: NPWT is appropriate for use on acute & chronic wounds, traumatic wounds, sub-acute & dehisced wounds, partial-thickness burns, skin ulcers (e.g. diabetic or decubitus) and flaps & grafts.
How Supplied
Contents of Small Sets GLX101S (15 sets / box):
1- Non-adherent porous foam NLT 70 cm
2
(10 x 7.5 x 3 cm) 1- Transparent film dressings NLT 300 cm
2
(15 x 20 cm) 1- ComforCap® drainage tubing set NLT 60 cm
Contents of Medium Sets GLX101M (15 sets / box):
1- Non-adherent porous foam NLT 210 cm
2
(18 x 12.5 x 3 cm) 2- Transparent film dressings NLT 600 cm
2
(15 x 20 cm each) 1- ComforCap® drainage tubing set NLT 60 cm
Contents of Large Sets GLX101L (15 sets / box):
2- Non-adherent porous foam NLT 370 cm
2
(18 x 12.5 x 3 cm each) 3- Transparent film dressings NLT 900 cm
2
(15 x 20 cm each) 1- ComforCap® drainage tubing set NLT 60 cm