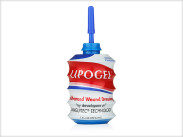 What makes LipoGel® advanced wound care?
Demonstrated biofilm inhibition through US Government testing*.
Properties unique among hydrogels:

Maintains moisture, without maceration.
Will not dilute with exudate.
An excellent anti-adherent primary dressing.

Gel firms with exudate to limit migration into secondary dressing.
Cost effective and Medicare reimbursable.
May be used in combination with other dressings including IodoFoam® and GelTex®.
*Dowd SE et al. Effects of biofilm treatments in a multi-species biofilm model. Journal of Wound Care 18 (12): 2009
Product Facts
LipoGel® wound dressing maintains a moist wound environment. Indications: Use for skin ulcers, burns, cuts and other skin irritations. Warning: If condition worsens or does not improve within 10-14 days, consult physician. Directions for Use: (1) Cleanse wound as directed by your physician. (2) Apply LipoGel® directly to the wound, or alternatively, apply to the contact surface of any sterile dressing being applied. Gel should be about 1/8" thick at wound surface. (3) Cover with an appropriate secondary dressing and secure. Re-dress wound as necessary or as directed by your physician.Use and store at room temperature. Product may thicken at temperatures colder than 20℃. Supplied as: Single units, cartons of 6 or cartons of 12.
Additional Product Images